Weed Biology and Climate Change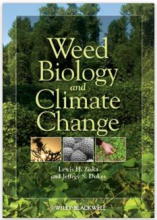 Abstract:
Weed Biology and Climate Change provides a synthesis of what is known regarding the probable impact of environmental change on weed biology. Chapters look at impacts of weed biology on agriculture, invasive species that limit ecological diversity and weeds that serve as health risks. In addition it looks at current weed management strategies and how they will be affected by global climate change. The book covers an increasingly important area in plant science, crop science and ecological research, and will be essential reading for anyone exploring the biological impacts of a changing environment.
Citation:
Ziska, L. H., and J. Dukes. 2011. Weed Biology and Climate Change. 1 edition. Wiley-Blackwell, Ames, Iowa.