CalClim: California Climate Data Archive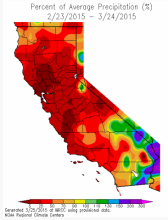 CalClim is a climate monitoring and data access website for the state of California created by the USGS Western Regional Climate Center, the Scripps Institution of Oceanography, and the California Energy Commission. The CalClim website offers a variety of climate data and products for researchers, state and local agencies, and anyone interested in California climate.
The website provides data downloads from weather and climate stations in California as well as tools for analyzing weather and climate data in California, including tools for creating graphs and maps for temperature and precipitation from historic and current data, drought data (both current and forecast) and the ability to search specialized products for the Lake Tahoe region.
The data comes from:
NOAA Divisional data (1895-present, monthly), PRISM data (1895-present, monthly), NCEP/NCAR Global Reanalysis data (1948-present), and a variety of weather station networks across California.
Creator:
USGS Western Regional Climate Center, the Scripps Institution of Oceanography
Contributor:
California Energy Commission
Publisher:
Scripps Institution of Oceanography