Climate Ready North Bay Vegetation Reports
Resource Location:
Hosted/Published on this site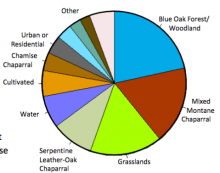 Abstract:
The San Francisco Bay Area's climate is already changing in ways that may impact which plants can grow where – the spatial pattern or distributions of native plant communities. From coastal redwood forests to stands of blue oaks in inland valleys, the diversity of local plant communities today reflects the region's steep climate gradients, complex topography, varied soils and history of ecological disturbance and human land use. These reports summarize current conditions and potential climate change impacts for one of the Bay Area's "landscape units" (as defined by the Bay Area Open Space Council's Conservation Lands Network). The last page provides links to additional information on Bay Area climate impacts, how scientists use computer models to estimate which plants may be resilient or vulnerable in the face of projected change, and recommendations for land managers.
Vegetation types assessed are:
Blue Ridge Berryessa
Coastal Grasslands
Marin Coast
Northern Mayacamas
Point Reyes
Russian River Valley
Sonoma Coast Range
Sonoma Mountain
Southern Mayacamas
Vaca Mountains West