Impacts of Climate Change and Invasive Plants in Sierra Meadows: Overview and Recommendations
Resource Location:
Hosted/Published on this site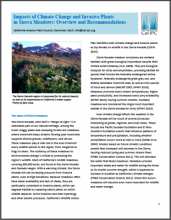 Abstract:
With a warming climate, the Sierra Nevada will see increasing pressure from invasive plants, even at high elevations. Because meadows often have water availability and lack of shade, they are particularly vulnerable to invasive plants, which can degrade habitat by replacing native plants on which wildlife depends. This educational piece from the California Invasive Plant Council outlines the impacts of invasive plants on the ecosystem services provided by Sierra Nevada meadows and goals for invasive plant management in the region.