Informing Decisions in a Changing Climate
Resource Location:
Remotely hosted on free website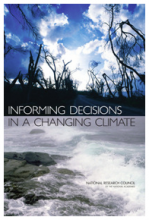 Abstract:
Everyone--government agencies, private organizations, and individuals--is facing a changing climate: an environment in which it is no longer prudent to follow routines based on past climatic averages. State and local agencies in particular, as well as the federal government, need to consider what they will have to do differently if the 100-year flood arrives every decade or so, if the protected areas for threatened species are no longer habitable, or if a region can expect more frequent and more severe wildfires, hurricanes, droughts, water shortages, or other extreme environmental events. Both conceptually and practically, people and organizations will have to adjust what may be life-long assumptions to meet the potential consequences of climate change. How and where should bridges be built? What zoning rules may need to be changed? How can targets for reduced carbon emissions be met? These and myriad other questions will need to be answered in the coming years and decades. Informing Decisions in a Changing Climate examines the growing need for climate-related decision support--that is, organized efforts to produce, disseminate, and facilitate the use of data and information in order to improve the quality and efficacy of climate-related decisions. Drawing on evidence from past efforts to organize science for improved decision making, it develops guidance for government agencies and other institutions that will provide or use information for coping with climate change. This volume provides critical analysis of interest to agencies at every level, as well as private organizations that will have to cope with the world's changing climate.
Citation:
Panel on Strategies and Methods for Climate-Related Decision Support, National Research Council. 2009. Informing Decisions in a Changing Climate. Washington, DC: The National Academies Press. Retrieved from http://www.nap.edu/openbook.php?record_id=12626.