Using Scenarios to Explore Climate Change: A Handbook for Practitioners
Resource Location:
Hosted/Published on this site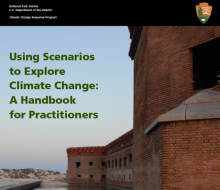 Abstract:
Developed under the National Park Service Climate Change Response Strategy, this guide is part of an interdisciplinary, cross-cutting approach to addressing climate change. The overall program supports NPS efforts to understand climate science in national parks and surrounding areas and to adapt to a changing climate to promote the resiliency of our cultural and natural heritage. Actively engaging ourselves and our audiences in park stewardship is a key ingredient of the climate change communication strategy and an integral component in addressing the effects of climate change.
This handbook describes the five-step process for developing multivariate climate change
scenarios taught by the Global Business Network (GBN) during a series of training
workshops hosted by the National Park Service in 2010 and 2011. The authors created this
guide as a reference for workshop participants who possess some familiarity with scenario
planning. The process featured in this manual is not a definitive method for building
climate change scenarios, since many valid methods exist to develop climate change
scenarios. The technique presented here is just one effective and proven approach.
Citation:
Rose, M., and J. Star. 2013. Using Scenarios to Explore Climate Change: A Handbook for Practitioners. National Park Service, U.S. Department of the Interior.