LANDFIRE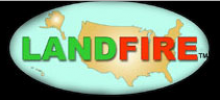 LANDFIRE (also known as Landscape Fire and Resource Management Planning
Tools) is an interagency vegetation, fire, and fuel characteristics mapping
program, sponsored by the United States Department of the Interior (DOI)
and the United States Department of Agriculture, Forest Service. LANDFIRE
produces a comprehensive, consistent, scientifically credible suite of spatial
data layers for the entire United States. The program is a long‐range initiative to periodically
update LANDFIRE data to sustain the value of the original project investment
and to ensure the timeliness, quality, and improvement of data products
into the future.