United States Department of Agriculture Climate Hubs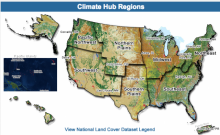 The Climate Hubs, through USDA and partner programs, offer tools, strategies management options, and technical support to farmers, ranchers and forest land owners to help them adapt to climate change. The Hubs direct land managers to USDA agencies that can provide program support to enable them to implement climate -informed management practices. USDA's Climate Hubs Vision is robust and healthy agricultural production and natural resources under increasing climate variability.
The mission of the Climate Hubs is to develop and deliver science-based, region-specific information and technologies, with USDA agencies and partners, to agricultural and natural resource managers that enable climate-informed decision-making, and to provide access to assistance to implement those decisions. This is in alignment with the USDA mission to provide leadership on food, agriculture, natural resources, rural development, nutrition, and related issues based on sound public policy, the best available science, and efficient management.
The USDA Southwest Climate Hub serves the California region. It is located at the Jornada Experimental Range ARS research unit, assists farmers, ranchers and forest landowners in coping with the impacts of climate variability. These impacts include extreme drought, wildfire, tree mortality, increased temperatures and less available water.