Coastal Fog, Climate Change, and the Environment
Resource Location:
Remotely hosted on free website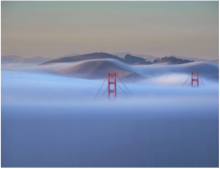 Abstract:
To climate scientists, marine fog's physical opacity symbolizes how much remains to be discovered about the atmospheric phenomenon. This article outlines what is known and unknown about fog and its relationship with climate change.
Citation:
Torregrosa, A., T. O'Brien, and I. Faloon (2014), Coastal fog, climate change, and the environment, Eos Trans. AGU, 95(50), 473–474, doi:10.1002/2014EO500001, (available at http://onlinelibrary.wiley.com/doi/10.1002/2014EO500001/epdf).