Wildlife in a Warming World
Resource Location:
Hosted/Published on this site
Abstract: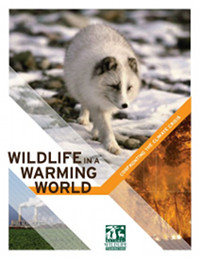 This beautifully illustrated 48-page report describes the threat of climate change to wildlife in the eight major eco-regions of North America and makes recommendations for action now and in the future.
The National Wildlife Federation report covers eight regions of the U.S., from the Arctic to the Atlantic coast, and details concrete examples of wildlife struggling to adapt to the climate crisis. The report recommends a four-pronged attack to confront the climate crisis' threats to wildlife and communities:
- Address the underlying cause and cut carbon pollution 50 percent by 2030.
- Transition to cleaner, more secure sources of energy like offshore wind, solar power and next-generation biofuels while avoiding dirty energy choices like coal and tar sands oil.
- Safeguard wildlife and their habitats by promoting climate-smart approaches to conservation.
- Help communities prepare for and respond to the impacts of climate change such as rising sea levels, more extreme weather, and more severe droughts.