Safeguarding California Plan: 2018 Update
Resource Location:
Remotely hosted on free website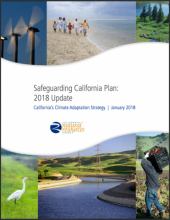 Abstract:
The 2018 Update to the Safeguarding California Plan is a roadmap showing how California's state government is taking action to respond to climate change. It clearly lays out the next steps to achieve the State's goals and how those objectives will be achieved. Over 1,000 ongoing actions and next steps, organized by 76 policy recommendations across 11 policy sectors, were developed through the scientific and policy expertise of staff from 38 state agencies. The plan first describes overarching strategies recommended by the California Natural Resources Agency, the State's lead agency on climate change adaptation. The document then outlines ongoing actions and cost-effective and achievable next steps to make California more resilient to climate change. This roadmap serves as a transparent and accountable tool for the public to evaluate the State's progress.