Species Distribution Modeling and Conservation Planning Workshop
In September of 2013 the CA LCC partnered with UC Davis Information Center for the Environment and Point Blue Conservation Science to offer a workshop on systematic conservation planning (see the CA LCC project description). The aim of the workshop was to present the state of the science for using spatial decision support tools to inform the conservation of plants and animals in the context of climate adaptation planning.
Presented here are the materials from the workshop, including reading lists, slide presentations, and lab exercises. These materials are free to use with attribution to the authors.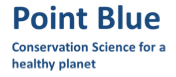 Preliminary Material
Outline of Workshop
Presentation Slides
Scenario Planning
Workshop Lab Exercises
Reading Lists and Online Resources
Complete List of Resources Mentioned in Workshop
| Type | Title | Creator | Date |
| --- | --- | --- | --- |
| Document | A brief tutorial on Maxent | Phillips, Steven | 2010 |
| Document | A practical guide to MaxEnt for modeling species' distributions: what it does, and why inputs and settings matter | Merow, Cory, Smith, Matthew J., and Silander, John A. | 2013 |
| Document | A review of methods for the assessment of prediction errors in conservation presence/absence models | Fielding, Alan H. and Bell, John F. | 1997 |
| Document | A statistical explanation of MaxEnt for ecologists | Elith, Jane, Phillips, Steven J., Hastie, Trevor, Dudik, Miroslav, Chee, Yung En, and Yates, Colin J. | 2011 |
| Document | A systematic approach for prioritizing multiple management actions for invasive species | Januchowski-Hartley, S.R., Visconti, P, and Pressey, R. L. | 2011 |
| Document | A working guide to boosted regression trees | Elith, J., Leathwick, J. R., and Hastie, T. | 2008 |
| Document | Achieving conservation when opportunity costs are high: optimizing reserve design in Alberta's oil sands region | Schneider, Richard A., Hauer, Grant, Farr Dan, Adamowicz, W. L., and Boutin, Stan | 2011 |
| Document | An interoperable decision support tool for conservation planning | Segan, Daniel B., Game, Edward T., Watts, Matthew E., Stewart, Romola R., and Possingham, Hugh P. | 2011 |
| Document | Application of species distribution models and conservation planning software to the design of a reserve network for the riverine fishes of northeastern Mesoamerica | Esselman, Peter C. and Allan, J.D. | 2011 |
| Web Resource | Avian Knowledge Network | Point Blue Conservation Science | |
| Dataset | Bias Corrected and Downscaled WCRP CMIP3 Climate and Hydrology Projections | Bureau of Reclamation, Lawrence Livermore National Laboratory, Santa Clara University,Climate Central, Scripps Institution of Oceanography, and the U.S. Geological Survey | 2007 |
| Document | Biodiversity conservation planning tools: present status and challenges for the future | Sarkar, Sahotra, Pressey, Robert L., Faith, Daniel P., Margules, Christopher R., Fuller, Trevon, Stoms, David M., Moffett, Alexander, Wilson, Kerrie A., Williams, Paul H., and Andelman, Sandy | 2006 |
| Web Resource | Biodiversity Information Serving Our Nation (BISON) | U.S. Geological Survey | |
| Document | Biodiversity management in the face of climate change: A review of 22 years of recommendations | Heller, Nicole E. and Zavaleta, Erika S. | 2009 |
| Dataset | California Natural Diversity Database (CNDDB) | California Department of Fish and Wildlife | |
| Document | Climate change and the future of California's endemic flora | Loarie, Scott R., Carter, Benjamin E., Hayhoe, Katharine, McMahon, Sean, Moe, Richard, Knight, Charles A., Ackerly, David D., | 2008 |
| Web Resource | Climatic Research Unit | University of East Anglia | |
| Dataset | CliMond: global climatologies for bioclimatic modelling | Kriticos, Darren J., Webber, Bruce L., Leriche, Agathe, Ota, Noboru, Macadam, Ian, Bathols, Janice, and Scott, John K. | 2012 |
| Document | Collinearity: a review of methods to deal with it and a simulation study evaluating their performance | Dorman, Carsten F., Elith, Jane, Bacher, Sven, Buchmann, Carsten, Carl, Gudrun, Carré, Gabriel, García Marquéz, Jaime R., Gruber, Bernd, Lafourcade, Bruno, Leitão, Pedro J , Münkemüller, Tamara, McClean, Colin, Osborne, Patrick E., and 5 others | 2013 |
| Dataset | Conservation International Downscaled Climate Projections | Conservation International | |
Pages